Book your next eye exam with us and benefit from a personalized experience!
Even though your vision may be clear, certain eye diseases can present without any symptoms and can only be diagnosed by having your eyes examined routinely.
Comprehensive Eye Exams
Our eye doctors perform a comprehensive exam of your vision and ocular health.
This allows us to determine the most appropriate prescription eyewear to meet the visual needs of your lifestyle and daily activities , and to determine the presence of eye diseases such as glaucoma, cataracts and macular degeneration as well as conditions such as diabetes and hypertension. These are best managed with early detection and diagnosis. Eye drops are routinely used to aid in the assessment of ocular health along with digital retinal photography/imaging. Each individual is unique; therefore, exams are tailored to address specific needs and concerns of each patient.
Children and seniors should be examined annually.
Adults are examined every two years.
Emergency Visits
Our doctors are knowledgeable in all aspects of ocular disease. Same day appointments are available for emergencies such as foreign bodies in the eye, redness, pain, swelling and acute vision changes.
We take pride in our patient care and want our patients feeling better, quicker!
Contact Lens Therapy
Our goal in contact lens fitting is that our patients see well and feel well. We fit soft and rigid contact lenses. We fit patients with high astigmatism, dry eyes, in need of bifocal lenses, or in need of contact lenses for esthetic reasons. New silicone-based lenses transmit up to 5 times more oxygen than older lenses. More and more people are opting for the convenience and ease of daily contact lenses which are healthier and more comfortable for the eyes.
Laser Refractive Surgery Consultations
Our clinic offers consultation and evaluation of patients interested in corrective laser eye surgery. We perform pre and postoperative care of LASIK patients to ensure that the eyes are healing properly and that vision is stable, and we answer any questions and concerns that may arise.
On-site Lab
Our on-site laboratory provides the latest in lens-cutting technology to edge your lenses accurately and efficiently.
It allows us to provide faster delivery of your glasses. Some prescriptions can be prepared while you wait, same day service.
Products
Frames and Sunglasses
We have a large variety of ophthalmic frames and sunglasses. We deliver excellent value for your money by combining the expertise you need with products you want at affordable prices. There are options for swim, sport, safety and more. We customize your frame and lenses to meet your vision needs.
Ophthalmic Lenses
We only use the highest quality lenses manufactured by Hoya Vision.
There are several different types of lenses available at our office. We take the time to educate and recommend lens choices suited for all your visual needs. We offer single vision lenses, bifocal and progressive lenses, thinner lenses, tints such as photochromic and polarized lenses, office (computer lenses), readers, and UV protection. There are various treatments and coatings available for lenses. All our lenses come with scratch-resistance and anti-glare properties. There is also now the option of blue light protection for the increased time spent on digital devices.
Partner: Hoya.
Contact Lenses
With all the latest technological advancements, most refractive errors such as nearsightedness, farsightedness, astigmatism and presbyopia can be corrected with contact lenses.
Our optometrists will help you choose the best contact lenses that provide the clearest and most comfortable vision. We dispense most often daily or monthly, daily-wear contact lenses or extended-wear lenses. There are colored options available as well. We evaluate vision and how the lens fits on your eyes. We stay up to date on all recent contact lenses. We try our best to find solutions to all your vision needs, be it high astigmatism, dry eyes, progressive wear or others. We also recommend and dispense proper lens care solutions for your contact lenses.
Partners : Alcon, CooperVision, Bausch + Lomb et Johnson & Johnson.
Order Contact Lenses
Our Clinic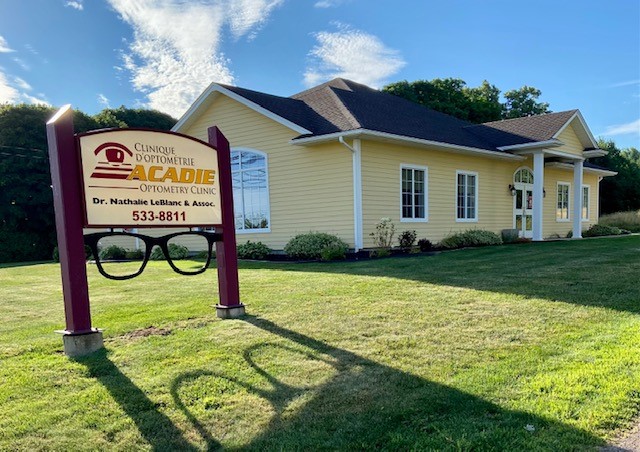 Find Us
Address: 4 Allée Vision Shediac, NB E4P 0B4
Contact Us
506 533-8811
Sunday : Closed
Monday : 9:00 am - 5:00 pm
Tuesday : 9:00 am - 8:00 pm
Wednesday : 9:00 am - 5:00 pm
Thursday : 9:00 am - 8:00 pm
Friday : 9:00 am - 2:00 pm
Saturday : Closed
A validation error has occurred. Please enter the fields and resubmit it.
Thank you ! Your email has been sent.